5 Best Websites to Buy Women's Dresses in UAE
When it comes to the dresses, you will directly go to the website that made you feel comfortable, starting from the purchase, refund, or exchange to the delivery. It's never been simpler to discover a dress that makes a statement, thanks to the variety of e-commerce sites that cater to different tastes and trends. We examine the top 5 websites online in Dubai, in the UAE where you can get women's dresses in this guide, offering a carefully chosen assortment for any event.
RedTag: Is distinguished by its dedication to offering reasonably priced clothing without sacrificing flair. RedTag provides everything you need, whether you're looking for a stylish evening gown, a casual sundress, or an outfit for work. The website is a one-stop shop for all your wardrobe needs because of its user-friendly interface, which lets you browse a vast selection of gowns made for every occasion.
Example Dress 1: Special Occasion Glamour,

Check out the RedTag assortment of dresses for special events to wrap up your dress-shopping experience. For an eye-catching look, go for a dress that complements your body and style, and you can pair it with these gold accessories and high heels to complete the glamour look.

 
Namshi:
In the UAE, Namshi has solidified its position as a top choice for fashionistas. Namshi provides a flawless online shopping experience and boasts an enormous range of gowns from both local and international designers. Whether looking for stylish evening gowns or casual day dresses, the platform's user-friendly layout makes it easy to browse through categories. Namshi frequently showcases exclusive partnerships and offers thorough sizing charts to guarantee an ideal fit. Namshi is a great option for style-conscious ladies who want to keep on trend without going over budget because of their frequent sales and discounts.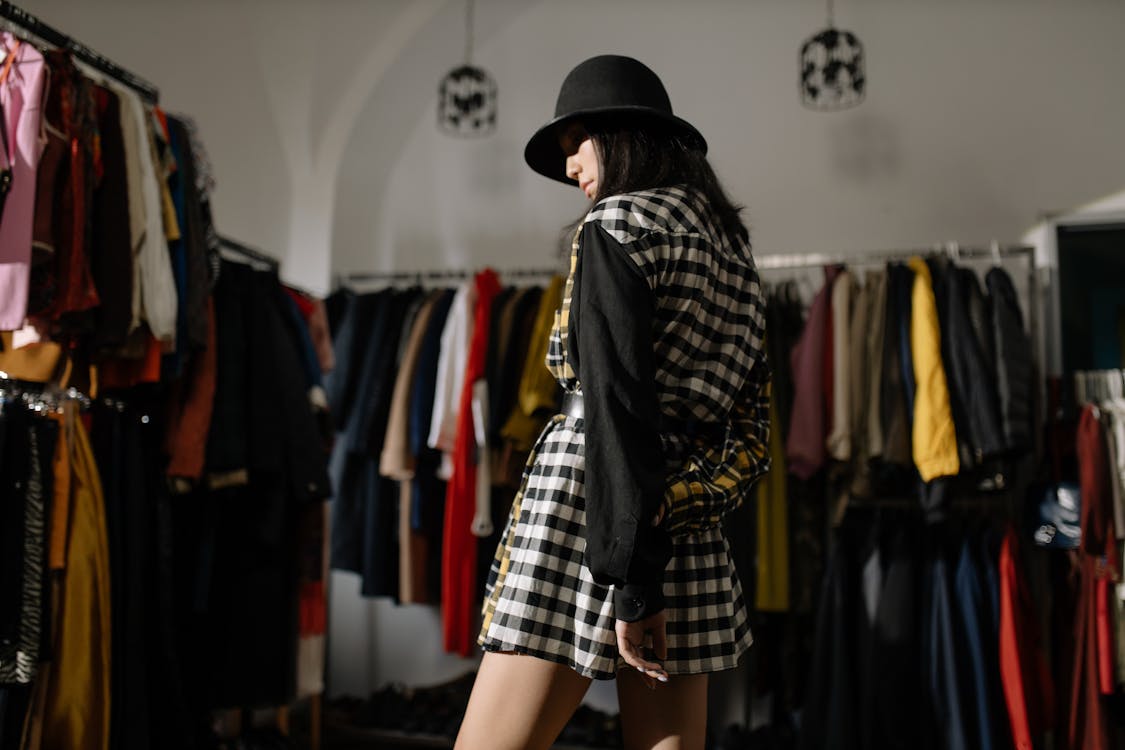 Example Dress 2: Casual Chic,
Start browsing Namshi's casual dress area to get started with your online dress purchasing experience. For a carefree yet fashionable style, choose a flowy floral midi dress with cozy sandals. https://www.pexels.com/photo/woman-in-checkered-dress-and-black-hat-standing-near-clothes-rack-6069977/
Ounass: Is a prominent online destination for consumers who value exclusivity and elegance. Ounass, who specializes in high-end fashion, chooses clothes from internationally recognized designers. Ounass offers a wide selection of dresses to suit the refined preferences of ladies who seek for superior quality and craftsmanship, ranging from elegant evening gowns to stylish party dresses. The sophisticated design of the website and the thorough product descriptions add to the opulent purchasing experience. Despite the higher price range, investing in an Ounass statement dress is a tribute to sophistication and enduring style.


Example Dress 3: Evening Elegance,
Look through Ounass for a sophisticated evening gown. For a look worthy of the red carpet, choose a designer garment in a rich hue, paired with understated accessories.


Zara: The massive global apparel brand Zara is well-known. The fashion landscape in the United Arab Emirates is no exception to the brand's popularity, and Zara's online store offers a wide selection of stylish yet reasonably priced outfits. Zara is a great option for women who wish to be ahead of the trend curve because of its quick inventory turnover and reputation as the place to find the newest, most fashionable items. The overall buying experience is improved by the website's simple layout and intuitive user interface. Zara caters to a wide range of fashion tastes, offering an extensive selection of workwear, statement pieces, and casual dresses.
Example Dress 4: Trendy Workwear

Browse the stylish business dresses at Zara. Select an adaptable item that works well for both after-work socializing and the workplace.


Shein: Is a veritable gold mine of reasonably priced and stylish outfits for fashionistas on a tight budget who are also style-savvy. Shein is well-known for its enormous assortment, and it constantly adds new styles so there's always something interesting and new to find. Customers are given significant information about the fit and quality of each garment by the user-generated reviews and photographs on the website, which helps them make wise selections. Shein is a great alternative for women of all body types wishing to express their style at an affordable price because of its inclusive sizing options.
Example Dress 5: Trendy Casual Dress
Look through Shein's section of casual dresses for stylish and reasonably priced options. For a laid-back day out, go for a bold color or a whimsical design to stand out. 
Dresses for women are the most popular piece of clothing women could look for. The UAE's online shopping and fashion scene offers a wide selection of dresses. There's something for every taste in fashion at RedTag, Namshi, Ounass, Zara, and Shein, whether you're drawn to luxury, trendiness, affordability, or a combination of all three. So go ahead and start your virtual shopping binge, and let the exciting world of online fashion in the United Arab Emirates help you find the ideal garment.